HABS photography studio SCHAF PHOTO specializes in architectural and HABS, HAER, HALS large format photography. We understand historic structures and mitigations in difficult locations. With 8x10, 5x7, 4x5, and digital formats to suit any photo requirements from strict Library of Congress specifications, to State and National Register nominations. Based in Ventura, California and serving the western United States.
---
Current HABS/HAER/HALS Photography Guidelines
November 2011 (current to 2015)
FOUND AT: nps.gov/hdp/standards/PhotoGuidelines

Heritage Documentation Programs HABS/HAER/HALS Photography Guidelines From Heritage Documentation Programs (HDP) establishes the standards for the production of drawings, histories, and photography, as well as the criteria for preparing documentation for inclusion in the Collection currently recognized as the Secretary of the Interior's Standards and Guidelines for Architectural and Engineering Documentation (hereafter referred to as Secretary's Standards). The resulting documentation comes from three sources today. The Washington Office produces documentation in-house directing field teams (made up primarily of students) all over the country.
HDP also receives documentation from the mitigation program satisfying Sections 106/110 of the National Historic Preservation Act. This material is often generated by the individual states plus regional offices of the National Park Service... A third source of documentation comes from donated documentation from interested members of the public...
The following guidelines are intended to provide an overview of the large-format photographic component of the documentation.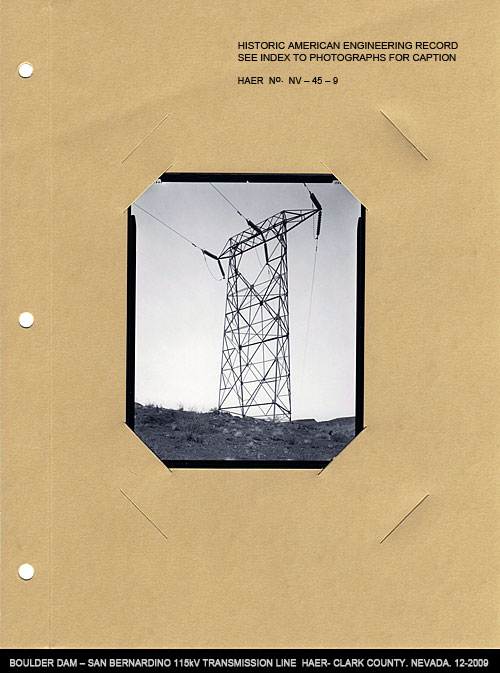 General Guidelines - Film:
Film continues to be the best way to store visual information about architecture and engineering for the long term, which is why it is still the standard in the HABS, HAER, and HALS collections. Photographs taken and printed for HABS, HAER, or HALS, in accordance with the Secretary's Standards are made from large-format, black and white film. The images are perspective corrected in the field at the time of capture using a view camera.
Large-format (4x5, 5x7, and 8x10) refers to the size of the negative in inches, not the print. The large-format negative is preferred for two reasons: longevity of the film and clarity of the image. The material stability of cut sheet film satisfies the archival requirements for longevity (500 years), while the clarity of the resulting image comes from a high level of resolution not possible in smaller film formats. Film can always be digitized but exclusively digital information may not always be recoverable due to the vulnerabilities of digital data including media degradation, hardware and software obsolescence, file format migration, proprietary formats, etc. In addition, maintenance of digital archives is much more expensive than maintenance of film archives. While the growing field of digital photography has resulted in decreased availability of some film processing materials and equipment, there still continues to be a broad range of materials available. While there is currently a wide range of film materials available for photographers, photographers may need to anticipate their film and chemistry needs in advance. Therefore, these guidelines reflect the changes in the availability of the necessary materials for producing large-format negatives and prints.
Equipment:
The following is a list of recommended equipment to produce large-format photographs that meet the Secretary's Standards. Camera: A large-format view camera with ample movement for perspective correction must be used. Acceptable film formats are 4x5, 5x7, and 8x10. (The 5x7 size has long been preferred due to its ability to capture context and structures both long and tall. See HDP PDF ONLINE For additional equipment.)
The following are suggested views for various types of structures, but the required views will ultimately depend on the project specifications and the focus of the documentation. A scale device must be included in specific views to show the size of the object recorded, particularly in documentation for the main façade of a building. The direction, such as the cardinal point from which the view was taken or the direction a building is facing, should be noted in the accompanying Index to Photographs...
For more details about Architectural Structures, Engineering and Industrial Structures, Cultural Landscapes, and Processing, Prints & Paper, see Photo Guidelines PDF ONLINE:
FOUND AT: nps.gov/hdp/standards/PhotoGuidelines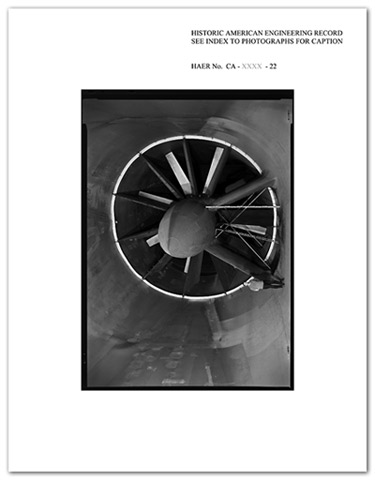 Creating Archival Digital Print Cards for HABS Documentation
Heritage Documentation Programs (HDP) has developed the following procedure to produce digital contact prints (instead of wet contact prints) that meet both HDP standards and the archival requirements mandated by the Library of Congress. The basic suggested procedure is the same for both black-and-white prints and color transparencies.
This process creates a print card that mimics the photo mount cards HDP has used for decades. HDP photographers developed this method as an efficient way to produce digital print cards. Results may vary based on hardware, software, and scanning environment.
Creating the digital file:
•Scan image emulsion side facing light source on a flatbed scanner with Anti-Newton glass.
•Crop scanning area to include film margins. Scan images at a resolution of 5000 pixels across, about 800 ppi for 5x7 negative, to yield a file roughly 18-20 MB for a black & white image and save as an uncompressed TIFF.
Creating the digital print (e.g. photo mount card with image):
•Create a new folder with copies of images for mounting.
•Downsize all images to 400 ppi, for printing ease. •Mount images upon a 400 ppi black canvas (i.e. 4.75" x 6.76" image area upon a 5" x 7" black canvas) for size uniformity, then flatten to reduce image size.
•Create a new canvas with the dimensions 8.5" x 11" at 400 ppi and copy the image onto that canvas. The image should be centered and the actual image size.
•Using horizontal text tool (Times New Roman, 12 pt., black font) on the overlay grid, create a text box in the upper right-hand corner. The following is an example of what the box must contain:HISTORIC AMERICAN LANDSCAPES SURVEY SEE INDEX TO PHOTOGRAPHS FOR CAPTION HALS No. CA-42-1. Do NOT flatten after this step in case you need to modify the text.
Printing:
•The print quality should be set to the highest, neutral monochrome settings (unless it is a color image).
•Batch all print cards in one folder and print from folder as "full sheet fax" to prevent image compression and to maintain actual size.
•Print entire folder or use rip software.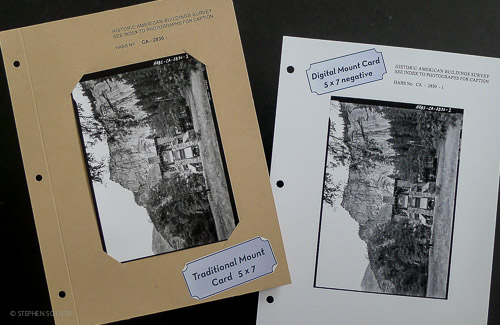 Note: digital print card scanning, formatting and printing is really no faster than traditional wet darkroom printing, but it allows people without a darkroom to create contact-type prints. If you plan to submit to HDP digitally, these are only partial instructions. Call and speak to the HABS/HAER/HALS staff directly about the latest changes to the process and materials, they are very helpful and happy to give you detailed information over the phone.
We use an 8-color pigment inkjet printer because it exceeds all the quality and longevity standards set up by HDP. The pigment inks are the longest-lasting inks for Black and White prints. The printer is equiped with 8 ink colors, but when printing in "Advanced Black & White Print Mode" it replaces the less permanent colored inks with the built-in Black, gray and light-gray carbon-pigment inks for neutral tone and maximum permanence.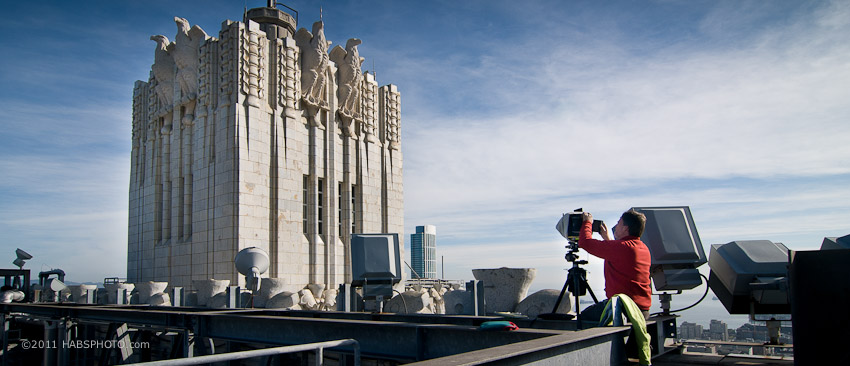 SEE ALSO> 2010 TRANSMITTAL GUIDELINES
FOR PREPARING HABS/HAER/HALS DOCUMENTATION

FOUND AT: http://www.nps.gov/hdp/standards/Transmittal.pdf

Documentation for the Historic American Buildings Survey, the Historic American Engineering Record, and the Historic American Landscapes Survey, (HABS, HAER, HALS) must be prepared using specific archival materials and archival processes in order to be comply with the permanence standards that govern the collection. By adhering to these standards, even the earliest HABS records from the 1930s are still available for researchers and will be into the future. Non-archival materials deteriorate for two principal reasons: they are attacked by harmful substances in the environment, and/or their physical and chemical composition is such that it will deteriorate regardless of how it is stored.

---
HABS | HAER | HALS | EIR & NATIONAL REGISTER PHOTOGRAPHY
Photo-Documentation – What Do Photographic Guidelines Have in Common?
By Stephen Schafer www.habsphoto.com
HABS, as the Historic American Buildings Survey is informally called, is arguably the best recordation program in the world. Established in 1933 as a make-work initiative for struggling architects, it was originally intended to be a four-month program, but was so valuble that it has endured to this day and spawned two other documentation programs. Originally intended to create measured drawings of vanishing colonial-era buildings, it quickly embraced photography as a documentation tool and expanded into other historical eras as well, conscious of the view that it would record "a complete resume of the builder's art," ranging "from the smallest utilitarian structures to the largest and most monumental" as proclaimed in the original HABS circular #1 from December 1933. The photography parameters soon settled on large format film and the quality standards emphasized clarity, sharpness and measuring scales in each view. In 1969, HAER, the Historic American Engineering Record was developed to record America's pioneering but rapidly vanishing industrial and engineering history. HALS the Historic American Landscapes Survey was founded in 2000 to record historic landscapes like parks, cemeteries and the cultural landscapes that did not fit into the architecture or engineering collections of HABS and HAER.
"A complete resume of the builder's art"
Many local and state guidelines include photographic specifications similar to HABS | HAER | HALS or the National Register of Historic Places (NRHP) requirements because most are appropriated or modified versions of these codified guidelines. NRHP submissions can currently be captured on a 2 Megapixel camera but best practices call for a much higher resolution in the 10MP+ range (Ten million pixels = 10 MegaPixels). It's encouraging to see the standards from Australia (which were not based upon ours) advocated a 10MP or higher standard years ago, and in the UK, English Heritage's digital standards were 16MP in 2003 (creating 45 Megabyte photo files).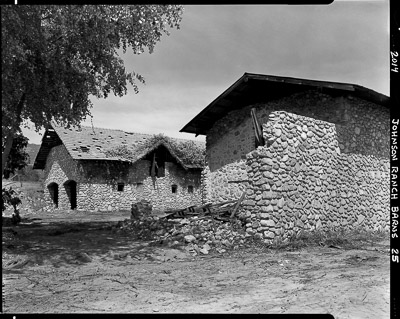 The National Register (NRHP) photography standards were very demanding before 1995, but they were also daunting for the members of the public wanting to nominate and protect buildings. The standards were changed in 1995 and again in 2005 to allow digital photo submissions. While making the registration of sites easier, it has had the unfortunate side effect of setting a lower resolution and quality standard for some of the newest nominations. For this reason very important properties should also be methodically recorded as HABS/HAER/HALS reports. Prepare for yet another change – the future may include digital submission through an online submission portal and this may require even smaller photos.
On the local level, historic resource survey photo guidelines are rarely codified, and in the past, as long as the photo looked OK as a small print on the original paper DPR-523 form, that was good enough. Today, National Register Multiple Property Submissions (MPS) are breaking new ground, moving from the in-depth resource surveys to reconnaissance-level surveys of many properties and historic districts with less intensive research for individual resources to make large quantity surveys a reality. The photographs accompanying these MPS type surveys may then be even more inportant, because they will serve to "fill in the blanks" of the fast-moving field-surveyor's data who is checking boxes and no longer writing narratives about each resource. The new digital survey photography guidelines that Schaf Photo developed for SurveyLA, the Los Angeles Historic Resources Survey, were based on a single digital photo from an affordable-but-good quality consumer camera. The digital photos taken in the field are electronically linked to the GIS Database that is created by field surveyors with tablet PC's and cameras walking the streets documenting LA's historic resources. SurveyLA photos are in a way "NON-HABS" – in terms of time, effort and money – but they still convey data; and even though they're faster and easier to capture, they still have the same basic documentary DNA as a 5x7 HABS negative. Keep in mind, however, that as the systems for surveying our heritage resources become faster and more computerized, more and more emphasis will be put on the photograph to relay detail and contextual visual data and it will be imperative that the quality of the picture accompanying the text data be as good as the context statement and the field survey and not just relegated to inexperienced volunteers.
HABS | HAER | HALS | CEQA An Overview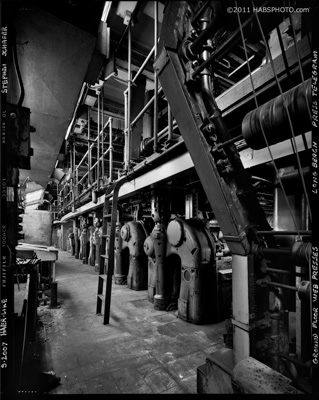 The Historic American Buildings Survey (HABS), the Historic American Engineering Record (HAER), and the Historic American Landscapes Survey (HALS) are administered by the National Park Service and the collection is stored in the Library of Congress's Prints and Photographs division, comprising more than 556,900 measured drawings, large-format photographs, and written histories for more than 38,600 historic structures and sites, all copyright free and in the public domain. HABS, HAER, and HALS are
America's historical architectural, engineering and landscape documentation programs and their goal is to provide architects, engineers, scholars, preservationists, and interested members of the public with comprehensive information on the historical, technological, and cultural significance of historic resources. The photos, drawings, and written histories are available online at the Library of Congress Built in America - American Memory website, and these documents serve as a permanent record of the growth and development of the nation's built environment.
"comprising more than 556,900 measured drawings... photographs, and written histories"

HABS | HAER | HALS documentation usually consists of measured drawings, large-format photographs and written data that highlights the significance of a resource. There are three levels of recordation that generally break down into:
(1) Level One - Measured line drawings (architectural plans), historic drawings, detailed large-format photographs, copies of historic photos, full written data package.
(2) Level Two - Numerous detailed large-format photographs, full written data package.
(3) Level Three - General large-format photographs, with a written data package.
This documentation acts as a form of insurance against fires and disasters by permitting the repair and, if necessary, reconstruction of historic resources damaged by such disasters. It is also used for scholarly research,
interpretation, and education, and it often provides the basis for enforcing preservation easements. HABS | HAER | HALS documentation is often the last means of preservation of a property: when a property is to be
demolished, documentation provides future researchers access to valuable information that otherwise would be lost.
EIR | CEQA
It should be noted that often HABS | HAER | HALS standards are appropriated as a basis for mitigating adverse impacts under the California Environmental Quality Act (CEQA). These Local-HABS, HABS-Like and HABS-Lite standards usually require Large Format photography of VIB's (Very Important Buildings) and a somewhat lesser standard for other buildings. Most are not transmitted to the Library of Congress, but are submitted to local museums, archives and historic societies. Since every city and county can develop and adopt their own standards, each EIR documentation is different and should approached with a different methodology (See the FAQ on the Recordation Guidelines Page).

Schaf Photo has had some success controlling costs for clients by supplying photos as high-quality, archival, bound, "laser-copy-on-acid-free-paper" research documents. The 5x7 original prints are still submitted to the NPS and SHPO and the bound research documents go to local museums, libraries, etc. to fulfill the requirements of mitigation documentation; this avoids creating costly, additional, original print-based documents for local historic societies and information centers but increases the Public Benefit by having many accessible copies in print.
More info about HABS HAER photography is available buy searching these terms:
Heritage Documentation Programs at NPS
Historic American Building Survey / Historic American Engineering Record
SECRETARY OF THE INTERIOR'S STANDARDS AND GUIDELINES FOR ARCHITECTURAL AND ENGINEERING DOCUMENTATION
PREPARING HABS/HAER/HALS DOCUMENTATION FOR TRANSMITTAL TO THE LIBRARY OF CONGRESS
Federal Register, Vol. 48, No. 190, (Thursday, September 29, 1983), pp. 44730-34
Federal Register / Vol. 68, No. 139 / July 21, 2003 / page 43159
Cultural Resources Program | National Park Service, U.S. Department of the Interior Washington, D.C.
---
NATIONAL & STATE REGISTER DOCUMENTATION
By Stephen Schafer
www.habsphoto.com
My thoughts on the National Register of Historic Places Photo Standards and the California State Register photo standards. For full text of official print and digital specifications, follow this link to NPS standards:
nps.gov/Nr/publications/bulletins/photopolicy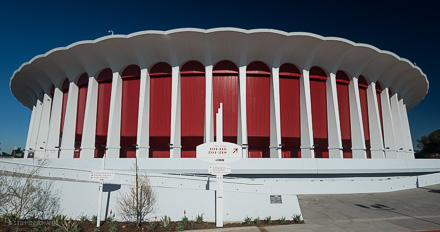 Unlike HABS photography, National & State Register Documentation does not need to achieve a 500 year archival permanence target. Register photography can be captured on medium format, 35mm and now digital cameras. Photographs submitted to the National Register or State programs are expected to last at least 75 years (but longer is better) before showing significant signs of fading. Black & white prints have been required since the National Register began but color images of certain types can now be used in nominations.
The 2005 NR photo policy update expanded acceptable documentation to include black & white ink-jet photo prints made from digital cameras in addition to conventional black & white prints from film, provided the digital ink-jet prints demonstrated a 75-year permanence standard, and color prints made on photographic paper with archival inks if the original digital files are included on a CD or DVD.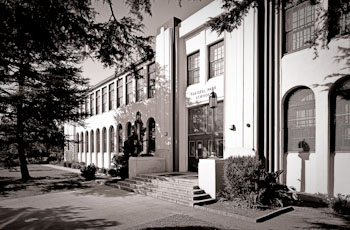 The NRHP and California State Register photographs submitted as official documentation are kept by the National Park Service (and/or sometimes the SHPO) and used (in perpetuity) for publication and other purposes, including duplication, display, distribution, study, publicity, audiovisual presentations, and display on and distribution via the Internet. Note: this usage is more expansive than the "standard" image use for images produced by many commercial photographers. HABSPHOTO.com is accustomed to this expansive usage in perpetuity, however some professional photographers may not feel comfortable granting such universal permissions to the National Park Service, or they may want to charge additional usage fees; be sure your photographer understands UPFRONT that these photographic uses apply so that the they can quote accordingly. Many photographers have strict controls on the usage of their images and to avoid confusion, the NRHP's usage requirements should be made clear to your photographer BEFORE THE PHOTOGRAPHY is contracted. (Note: HABS/HAER/HALS photo submissions require the photographer to put their photos into the Public Domain, and sign away copyright to their images.) As stated above, a minimum 75-year-permanence standard is intended to ensure the longevity of NR documentation, and applies to all forms of photo-documentation, however the old standard of black & white images printed on silver-emulsion fiber and resin-coated (RC) papers is still acceptable.

(Photographs printed on RC paper have been accepted since the early 1980s). As of March 2005 (and the April 2008 Revision draft), black-and-white ink-jet prints produced from digital images also are acceptable if all original electronic files are included with the submission on a CD or DVD. Because of the very specific digital printer and paper requirements, file naming, digital management and the addition of an image CD or DVD – We now produce about half of our NR photography on film and half on high-resolution digital cameras, and submit RC or digital prints with a DVD of the original Tiff files.
Who will determine if a resource is eligible for the National Register? In California, the State Historical Resources Commission (SHRC) a nine member review board, appointed by the Governor. A staff historian from the review unit at the State Historic Preservation office (SHPO) will determine the potential eligibility of the property and create a staff report for the Commissioners supporting the nomination or recommending denial. They will be looking for answers in the photographic and written documentation submitted to them. The Historians looking at your nomination should be able to take a magnifying glass to the prints (and they often do) and read small signs and see details in highlights and shadows.
The Commissioners will review the images in their meeting documentation packets and again on a Powerpoint slide of unknown quality since the meetings move around. The best way to illustrate the significance of a resource is through meticulous documentary photo surveys and well-lit, sharp, 5x7 prints. Little 3x5 prints from K-Mart might be fine for your photo album, but the bigger and better the photographs in your nomination, the better your chances of a successful National or State Register listing.
View Schafphoto HABS Photography Portfolio
---
SCHAF PHOTO STUDIOS | STEPHEN SCHAFER | www.HABSPHOTO.com
---